Some great mind said, "All great work has come about by meeting and knowing new people".
SOFTWARE SOLUTIONS DEVELOPMENT
WITH THE LATEST TECHNOLOGIES
Today, every business faces the challenge of performing Digital Transformation. Whether you aim to use AR to simplify a part of your value chain, or create an IoT ecosystem with Smart Contracts, our engineers know all key tech stacks needed to help you on this way, Advanity Technologies has been levering emerging technologies to help our clients with impact, enterprise-wide software solutions.
Custom Software Development
SOFTWARE DEVELOPMENT PLATFORMS,
TECHNOLOGIES & LANGUAGES
With over ten years on the IT market, our experts are bringing you wide-ranging expertise in all the areas needed for a reliable software development solution that works across the board.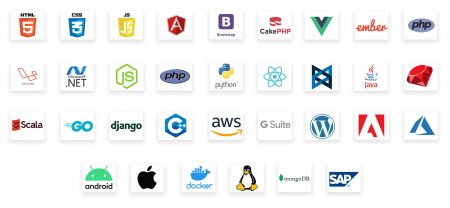 A framework is a development environment, with ready-made solutions and tools, which speeds up the development process. A framework is like a semi-finished product, from which you can create a complete project. Every language has many different frameworks. There are both common ones that can be used for developing of any solution, and specialized ones for narrow tasks. Frameworks are used to develop large and complex projects with unique functionality. It is much faster and cheaper than develop in plain language.
The main purpose of this phase is idea validation and collecting feedback from the users. There is no reason to spend a lot of money on the project because the project will change during its life cycle. Product Hunt, for example, grew out from the e-mail newsletter, which was some kind of MVP.
At this stage, your task is to check whether you are in the right market with a product that can fulfil customers' needs. It is time when tech-stack starts to shape. Based on information received from MVP, you can identify features, which can satisfy the target audience. Try not to over-engineer the solution, implement only crucial features.
When a startup rises to scale level, it starts serving multiple customers segments with relevant price-points. At this stage, the project is an extensive structure with a variety of functions and integrations.
Frequently, scalable projects have several modules developed in different languages. Often each module has separate tech-stack that satisfying its functionality the best.
NEED FORWARD-THINKING SOFTWARE? GET IN TOUCH WITH US.