The Better Choice: In-House Development or Software Outsourcing?
Choosing between in-house development or software outsourcing is a major concern for businesses looking for software. In this blog, let us check out the pros and cons of both approaches.
Software is the core of any business! Whether it is a business or a startup, no business can prosper without software. Software development can be done in two ways: In-house development or software outsourcing. In this article, I will compare the in-house development to outsourcing and detail when to choose which.
Software development outsourcing is a catch-all term, and in recent years, companies have leaned more towards outsourcing their IT requirements. The factors that lead to this decision are high value for money, fewer hiring problems, faster time to market, etc.
The other way out is in-house software development. Assembling an internal team takes a lot of time, commitment, and patience.
There are risks involved in both approaches. Let's first try to understand what in-house development and software outsourcing are. Then, we will compare in-house development or software outsourcing using the pros and cons of each approach.
What is In-house Software Development?
In-house software development means leveraging company resources to develop or implement software according to specific company requirements. This involves the lengthy process of job posting, interviewing, and hiring suitable candidates.
In this approach, you need to invest money and time in bringing together all the different people or roles involved in creating a solid foundation for developing good software.
When developing software in-house, software development should be the core competency of the business. They need to have enough resources and infrastructure to support software development on their own.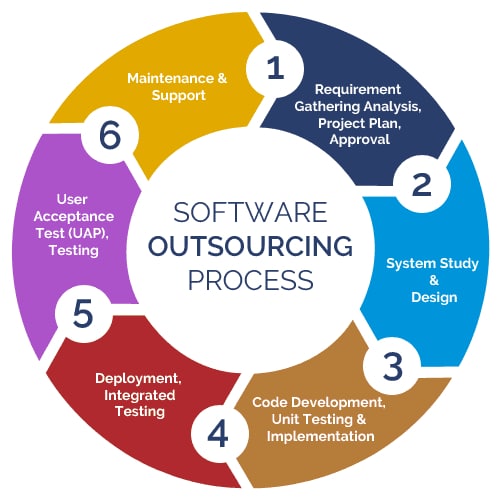 Advantages of hiring an in-house software development team:
A better understanding of corporate culture and business
Always available
Total dedication to the project
No cultural differences
No language barriers
Face-to-face discussions
Maintenance, modernization, and support, all internal
Disadvantages of hiring an in-house software development team:
Increased costs (salaries, benefits, raises, insurance, travel expenses, etc.)
Investment in infrastructure
Lack of skills
Hour
Exit, which means starting the whole process over again
Let's now compare outsourcing and in-house software development in detail:
In-house Software Development
For startups and companies with an in-house IT team, there's nothing like in-house development. It is easier and much more manageable. If you need a change in requirements or an upgrade, you can walk a few blocks and order them with a cup of coffee. That's great.
But before sharing coffees, keep in mind that the internal software development process is lengthy.
Step 1: Suppose you work for an e-commerce company. Your boss tells you that the company requires inventory management software to streamline inventory processes. Accept the request and communicate with the business analysts.
Step 2: The business analyst prepares a business requirements document and informs you what kind of resources are required.
Step 3: Now you know what software is and what it does, so the next step is to put together an IT team: developers, designers, project managers, and testers. So, you contact the recruiting team.
Step 4: Job Offers, Interviews, and Hiring – Have a good few months!
Step 5: Once you assemble a team, development begins, and now you can order the coffee;)