IT Staffing and Recruiting in USA
Are you planning on hiring a pool of candidates for your organization? But, does it feel like an intimidating task to go talent hunting, screening, and on-boarding the suitable candidates? Advanity Technologies are sure it does. Fortunately, we live in an era where we can easily get assistance from the best IT staffing agencies to meet our needs.
If you are new in the business, multiple questions might be arising in your mind like – How does a staffing agency work? Or how do we search for them? Or what is the best IT Staffing agency? Blah, Blah, Blah!
Advanity Technologies understand your curiosity, and we promise by the end of this blog you will have a fair understanding of how the IT recruitment firm can offer you top-notch professionals. Follow our lead!
ADVANITY TECHNOLOGIES has evolved as an IT Staffing Agency through a unique resourcing concept that is based on the comprehensive value chain analysis of the recruitment process detailed out utilizing in-house capabilities and extensive market research.
IT Recruitment Agencies ensures the candidates' qualification
IT employment agencies have a strong network that leads them to hundreds of applications on every job posting. Screening these applications and sorting out the most suitable candidates might take up weeks. Lining them up for the interviews is another task.
Here is where the staffing firms come into the picture. They take care of every stage of hiring, right from shortlisting the on-boarding. In order to leave no space for any doubt, hiring managers meet the candidates face to face and ensure their qualification.
boarding. In order to leave no space for any doubt, hiring managers meet the candidates face to face and ensure their qualification.
IT staffing solution serves as a medium to find a critical resource
The job market is not always a solution when you are looking for a highly skilled IT resource. One needs to run its search a little deep. In addition, traditional job posting cannot work effectively when we want to reach niche talent. But, but, but.
There is a way that can make this critical process a simple one. Do you know what it is? It is a partnership with the best IT staffing agencies. Staffing firms have their own ways to reach the potential candidates even for the difficult position
Staffing firms are aware of and practice the latest tools and trends
One thing a non-staffing firm cannot do is keep up with the latest trends in the recruitment industry. This lack of knowledge can lead to dead ends for every search. But as far as IT Staffing companies are concerned, they make it a point to keep their consultants aware and updated about the latest tools and trends.
Hence, handing our recruitment needs to the consulting agencies can actually lead us to a resource that is multi-talented.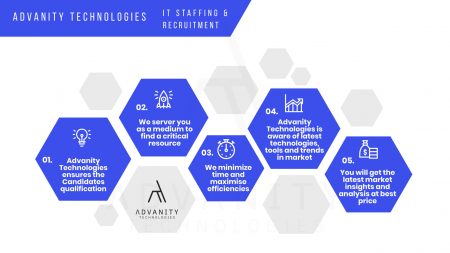 IT staffing agencies minimize time and maximize the efficiencies
It is a huge possibility that your internal hiring process is working but taking too long to complete. In such a situation, the best thing to do is outsource your recruitment needs to a reliable IT recruitment consulting firm.
They are mostly powered by a team of consultants that deliver 2 weeks of work in 3 days. You can understand the benefits of the ratio. Plus, in a time of crisis where the project needs urgent employees, you can rest assured knowing that your partner will do the job quickly and fast.
You get the latest market insights and analysis
Domains like IT faces major fluctuations now and then. It's hard to keep up with the changes and demands of the business. Another thing to note is the candidates' viewpoint. People no more want a job in an organization that only has a name. They lookout for a better salary, work culture, and benefits.
If you are offering all of these below the bar then the chances of losing a valuable resource are high. Do you really want to face that risk? Advanity Technologies know you don't. So how do you stay updated about these things? There is only one answer to it – embrace IT staffing services offered by a trustworthy IT staffing agency.
So far, we have answered you how the staffing agencies work and what they bring to the table. However, we still want to tell you how can recognize the best staffing agency! Keep the following points in mind.
      The one who has a huge database
      The one with the global reach
      The one with a proven record of successful deliveries
      The one offering both, single resource hiring and pool hiring too
Hiring has to be a smooth process so that business can focus n their core goals. If you wish to have an efficient IT staffing firm to help you, contact Advanity Technologies. We with our team of certified consultants will help you hire top-notch talent